SARAH'S BLOG - LITERACY AIDING TRANSITION
Tuesday 28 September 2021
This month is a hugely important time at Kamelia Kids, where we see children leave for school, move up through our Daisy, Poppy, Bluebell and Snowdrop rooms and of course new starters coming into a nursery settling for the first time.
Books help tremendously in making sense of a transition, that raises many emotions in both parents and children. At Kamelia Kids we have a position called a CALCO (Communication and Language Coordinator. This is in addition to our SENDCO (Special Educational and Disability Coordinator) and PANCO (Physical and Nutritional Coordinator) roles, which aid our holistic approach to caring for the whole child.

Our CALCO says "in the first 3 years of life a million neuro paths form every second and Literacy is an essential skill that covers speaking, listening, reading and writing". "My role is to source new books relevant to children's interests and needs. Keep up with government or local initiatives and get everyone involved in Book Days".
Reading inside, outside, alone or together provides comfort and wonder to so many of us.
One of my favourite books to read children who are struggling with settling is a story called Owl Babies.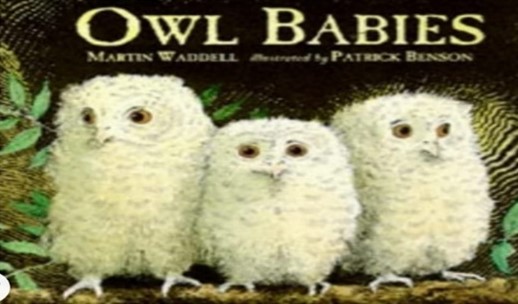 Some people think owls symbolise wisdom, knowledge, change and transformation.
We have this book across the nursery.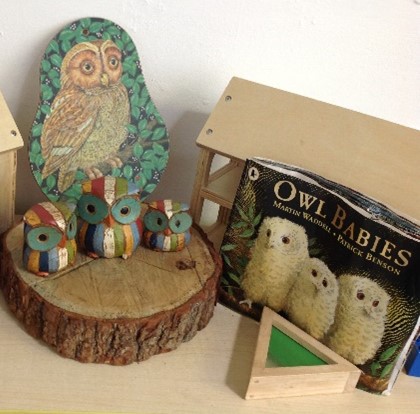 In preschool as a story sack with a plush puppet and toys.
In the toddler room with a chopping board with a picture of an owl on it (£1 from a charity shop and 3 wooden owl ornaments, given to me by a very lovely apprentice I worked with).

Children enjoy having props.
We have some beautifully painted wooden spoons, puppets, small world toys, charity shop finds and even a pair of wind-up teeth!
In Poppy Room our story sacks are on hooks next to our reading nook.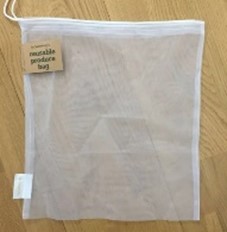 We use supermarket vegetable drawstring bags as story sacks.
They are around 50p for 2 and are super for the purpose as they are transparent.
Reading stories like Owl Babies comes to life for the children when the reader uses different tones in their voice, in this book, when Bill says "I want my mummy".
The story provides a gentle reminder that carers come back and teaches about habitats and nocturnal animals.

Books provide comfort when children feel unsettled and understandably upset. Whilst listening to a story either 1:1 on a practitioner's lap or in a small group, bonds start to form and everyone relaxes, a great distraction. In our library of books we include issues relevant to our children's lives. For example A New Baby, Starting School and hospital visits to name a few.
We also use tuff trays to create invitations to play and the children then have chance to act out a story and use funny voices of their own when sharing their knowledge. Five books that we read over and over are:
The Very Hungry Caterpillar
Room on the Broom
Rainbow Fish
Giraffes Can't Dance
The Colour Monster
Children love lots of different types of reading material, magazines and comics, board books, picture books, books with tactile surfaces, fiction and non-fiction books. Just have fun reading!

Sarah Camp
Pedagogical Lead
Kamelia Kids Day Nursery and Beach School