Promotional offer
for new registrations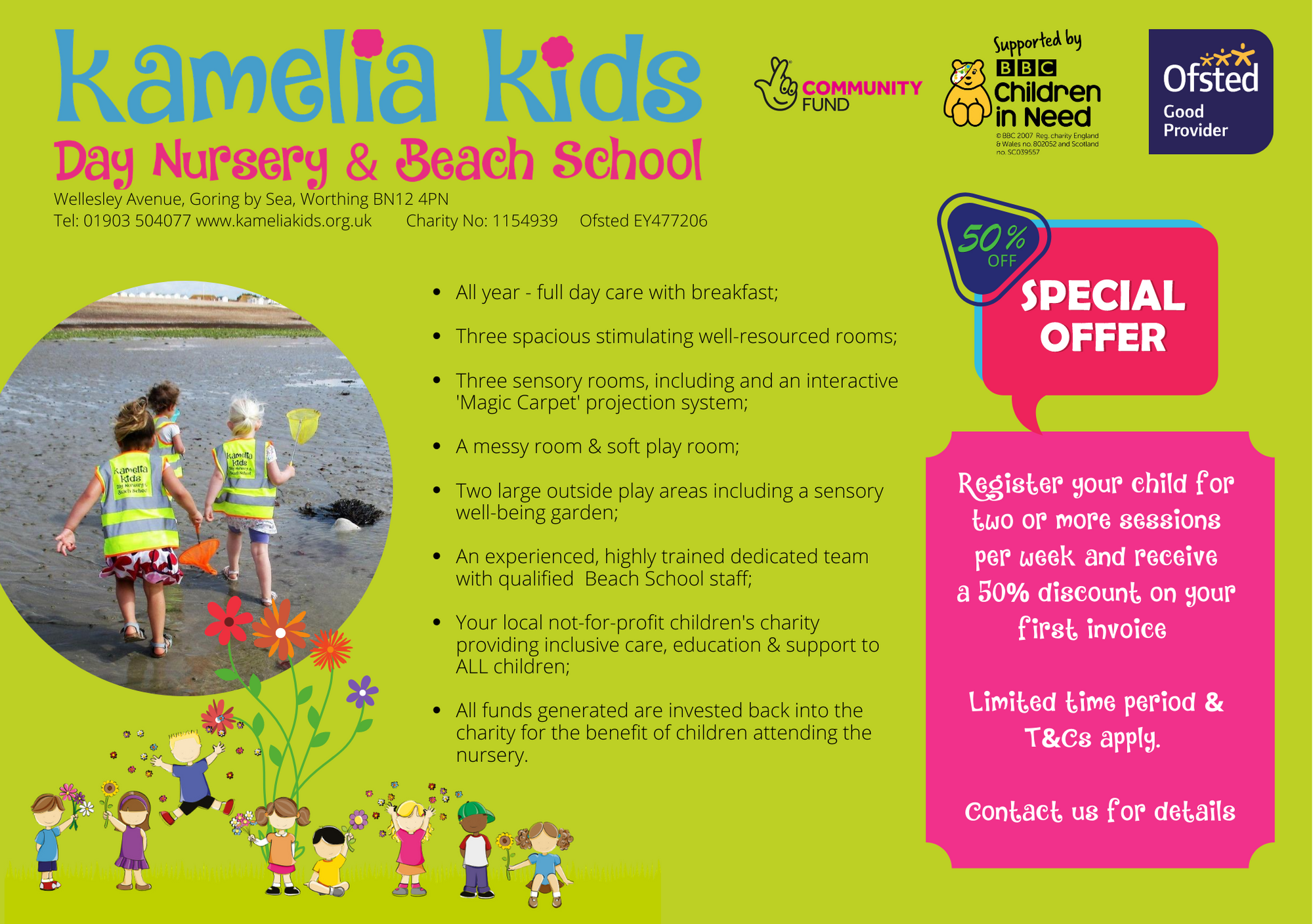 Terms & Conditions - Offer only available for new children who register and attend two or more regular sessions per week for 51 weeks of the year. Your child must remain registered at Kamelia Kids for at least the same amount of sessions per week for at least six months, otherwise we reserve the right to reclaim the discount previous given. Sessions booked as extras are excluded. Discount will be applied to the first invoice. Offer not valid with any other promotion or offers.

A Message
from Suzanne -
Adapting
to Change...
A new term has begun!
For some of our children this has meant a period of transitions, moving up to a new room. This is a big step, yet change is unavoidable and much planning by the staff took place to ensure that the transitions went smoothly. Settling in sessions took place to help the children adjust to their new environment, the activities and new routines all with due consideration on how children's friendships could be affected by moving rooms. Handovers between practitioners and parents took place to ensure that children's needs were met, and that appropriate support was in place.
We have also worked hard to ensure that the environment is safe and fit for purpose, updating our Covid-19 risk assessments ready for the start of the autumn term.
As well as this, we have completed the long-awaited refurbishment of our sensory room and installed a state-of-the-art floor projection system known as the "Magic Carpet' which will take our learning, play and communication with children to an entirely different level.
Our environment is forever adapting and evolving. In the coming months we hope to share more positive news on the other changes taking place all of which are for the benefit of the children attending our nursery.
Remember ... HANDS - FACE - SPACE
Important
Covid-19 Info
rmation
Information is updated in line with any changes in Government and Public Health England (PHE) guidance for early years settings.
Covid-19 information for parents and carers can be accessed via the links below.
Video links show how our pre-school children in Bluebell access the nursery.
Daisy (Babies) & Poppy (Toddlers) children access the nursery via our main nursery entrance.
A summary of how the nursery is currently operating for enquirers and current parents can be seen on our Covid-19 page.
Please see our latest risk assessment (3 Nov 20) below.
Parents & Carers Letter - Jun 20
KamKids Risk Assessment - 3 Nov 20
We
Play
–
We
Explore
–
We
Learn
–
We
Develop
Playing is central to the well-being and development of a child. When children play, they are building imagination, developing their language and reading skills, strengthening physical skills and enhancing their self-esteem as well as gaining self-control and solving problems.
Children are the masters of exploration and investigation, showing a curiosity about their environment. These skills are an important factor in learning about themselves, how to think, form friendships and social skills and exploring the world in which they live.
Areas and objects can spark a child's curiosity and enable them to use a range of senses to investigate. Children discover that learning and exploring can be fun. This leads them to gain knowledge and experience, mastering new found skills which helps support their development further.
Our
Mission
At Kamelia Kids we provide an inclusive, safe, stimulating and welcoming environment where according to their individual needs, children are given opportunities to become competent learners and to flourish in all areas of their development, through play, exploration and active and creative experiences indoors and out, including our local beaches. We are dedicated to supporting families and assisting in giving every child the best possible start in their schooling, so that they may reach their potential and be the best they can be.
"It is our mission to enable young children to thrive in a learning and caring environment; encourage parent partnership and active participation to optimise the child's growth and development to reach their full potential. We will accomplish our mission by being an informed, innovative and responsible early year's provider by providing the facilities and services needed to build on the child's early experiences gained at home."
Our
Virtual Tour
360 virtual tour. Use the cursor to explore in and around our lovely nursery.
Apply
If you would like to enquire about a place here at our nursery, you can contact us via our enquiry form here.
Our
Prospectus
For more information – you can download a copy of our prospectus here.
Testimonials
"We chose Kamelia Kids for our daughter, not only for the facilities that she would have the opportunity to access but for the initial show round with Sarah. We were welcomed into the setting and shown around with great knowledge and experience and I knew our daughter would benefit from all of this. Our daughter has a number of conditions and going into a new setting was not an easy decision to make. Since she has attended, our daughter is given daily the opportunities that any other child is able to access. Although she is unable to use the equipment the same as other children do, she is still given that chance and the progress she is making is amazing. I truly feel Kamelia Kids is a great setting and we are so happy our daughter attends. Thank you to all the staff, management team and admin staff for their support in making our daughter's care great. We absolutely love the setting" - Kamelia Kids Parent - March 2020
"My son has an amazing time at nursery and thorughly enjoys every day. The staff are wonderful and erally look after and care for him. They support parents with their concerns too and provide suggestions. My little boy has learnt so much and interacts well with other children thanks to the guidance from the nursery staff". - Kamelia Kids Parent - March 2020
"My son has been going to Kamelia Kids since Nov 18 and absolutely loves it there! He started in Poppy room where all the staff made him feel welcome and really helped him settle quickly. He moved to Bluebell room last year and again the staff made this seamless which really helped him as he is quite a shy and nervous little boy. The activities and facilities are brilliant and they learn so much. My son has come on brilliantly since starting. All the staff we speak to are all lovely and so helpful and really do care about the children they care for. I can't recommend Kamelia Kids enough and I will be sad when my son leaves here to start school". - Kamelia Kids Parent - March 2020
"Thank you for everything you have done , not just for our Maisy-Leigh but for us as a family. Thank you for helping our little girl to come as far as she has and always believing in her! You as a nursery are truly amazing and without you guys we don't think Maisy-Leigh would be where she is now! Thank you for supporting our family through the good and the bad and just for doing your very best for our little girl. We will forever be thankful and will miss you all very very much!" - Hayleigh, Luke and Maisy-Leigh - September 2019